What is OneDrive for Business?
OneDrive for Business is an integral part of Office 365 or SharePoint Server, and provides place in the cloud where you can store, share, and sync your work files. You can update and share your files from any device with OneDrive for Business. You can even work on Office documents with others at the same time.
NOTE: OneDrive for Business is different from OneDrive, which is intended for personal storage separate from your workplace. OneDrive for Business is also different from your Office 365 team site, which is intended for storing team or project-related documents. If you have a small business, it's ideal to set up your file storage to use OneDrive for Business and Office 365 team sites together.
Store your work documents and related files
If you're using Office 365, you get 1 TB of space in the cloud for OneDrive for Business. If your OneDrive for Business library is hosted on a SharePoint server in your organization, your organization's administrators determine how much storage space is available.
All files that you store in OneDrive for Business are private unless you decide to share them. You can also share files and folders with specified co-workers so you can collaborate on projects. If you're signed-in to Office 365, you may even be able to share with partners outside of your organization, depending on what your company allows.
TIP: When you send email from Outlook Web App, you can attach a OneDrive for Business file as a link, instead of sending an attachment. When you Attach a file as a link, you automatically give the people you send the message to permission to edit the file. Plus, you save space in everyone's mailbox and encourage people to edit the same copy in OneDrive for Business.
To get to OneDrive for Business
1. Sign in to Office 365 or your SharePoint site with your work or school account.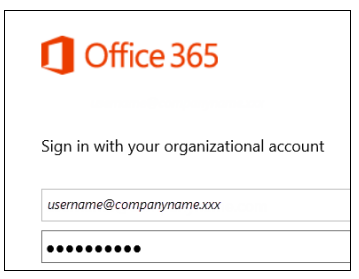 2. At the top of the page, click the app launcher 
, and then click OneDrive.
OneDrive for Business is provided to you through your organization's subscription to SharePoint Online in Office 365 or through an on-premises installation of SharePoint Server.
Sync OneDrive for Business to your computer
1. Sign in to office 365 or Sharepoint, select OneDrive at the top of the page, and then click Sync.
2. To find your OneDrive for Business, do one of the following: 
a) You'll find your synchronized files in your File Explorer, under the Quick Access panel. If you're syncing an Office 365OneDrive for Business library, your synchronized files appear in the OneDrive@organization, OneDrive - organization, or OneDrive for Business folder.
b) Click the OneDrive icon 
 in the notification tray, and then click Open your OneDrive for Business folder.
You can also work on your files locally, saving to the OneDrive folder, and your changes will be synchronized automatically with your OneDrive for Business library when you're online.
How is OneDrive for Business different from OneDrive?
Microsoft offers another storage service called OneDrive. You may already be using OneDrive to store documents and other content in the cloud. This service is different from OneDrive for Business:
OneDrive is online personal storage that you get with either a Microsoft account or Outlook.com. Use OneDrive to save documents, photos, and other files in the cloud, share them with friends, and even collaborate on content. You're free to decide how you want to use it.

OneDrive for Business is online storage intended for business purposes. Your OneDrive for Business is managed by your organization and lets you share and collaborate on work documents with co-workers. Site collection administrators in your organization control what you can do in the library.
Although you can't connect your personal OneDrive to your Office 365 business account, you can copy or move files between them. To move files between your personal OneDrive account and OneDrive for Business follow these steps:
Copy files between personal OneDrive and OneDrive for Business
Sync both versions of OneDrive to your local computer. See Sync OneDrive for Business or site libraries to your computer for more info.

Open both folders on your computer, and copy or drag files from one folder to the other.

Re-sync both folders with OneDrive.
NOTE:  In the header or elsewhere on your SharePoint or Office 365 site, 'OneDrive' appears as an abbreviation of OneDrive for Business to keep things simpler.